---
We thought that it would be both interesting and enlightening to visit a few other primary schools to see what they were like and how they operated.
Mbaka Oromo Primary School
These are photos that I took of another local primary school at Mbaka Oromo during this February's visit. The journey to the school was somewhat interesting (big understatement!). I took the main road out of Kisumu towards Maseno, with instructions to turn right at a particular landmark. I missed the turning the first time. It was a little mud track. For the first few miles the mud track was quite OK, especially in the Toyota 4x4 Landcruiser that I had hired for the week. Then the track became rather worse, and for the next few miles I was driving over huge boulders, up and down steep inclines, through a river..... and I had no idea if this really was the right road! (Later, when I told people that I had been there, they were amazed. "You drove there!?". Nobody had told me that you don't do that.)
I finally found the school. But not until I had passed it twice. Frankly, it looked like a group of derelict cow sheds in a field.
By comparison, we have luxury at Dago Kokore. But don't worry, a small group of Americans is now starting work with this school as a project. They saw our web pages here and wrote to me, and we met them in Kenya during February 2006, and they visited our school too, to get some hints and ideas. They are going to knock down these buildings and start from scratch!
Mbaka Oromo School has 5 teachers and 540 children.
| | |
| --- | --- |
| | |
| The buildings are of mud/dung construction over a frame of twigs and branches. | This is class 1 (foreground) and the ECDC infant class. Classes 2 and 3 fell down the sand cliff into the ravine last year. Thankfully without the children! The black area on the end wall is class 2's blackboard. |
Alara Primary School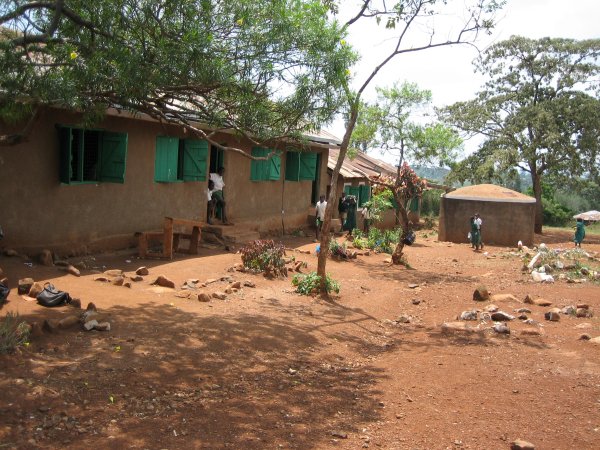 Alara is a primary school quite close to Dago Kokore. This school has not yet had a link with a British school through the British Council, but it is a possibility for the future. We spoke with the head of the British Council School Link Project whilst we were in Kisumu, and he is looking for a suitable school in England to link with Alara.
In January 2006 two teachers (Tom and Beatrice) from Dago Kokore School were transferred to Alara ,and two came from Alara to Dago Kokore.
Gee Primary School
Gee Primary School (pronounced "gay"), is another in the local district. Of the ten schools in the immediate district, this one was bottom of the league table in 2004. It was now held up as a school which had seen immense improvements in school exam results in 2005, and therefore we were extremely interested in making a visit. Teaching facilities were no better than at Dago Kokore or Alara. After asking some deep questions, we found ourselves being somewhat skeptical about the increase in results.