How fortunate are we?
Here we are, enjoying the benefits of comfortable homes, good food, and luxuries such as computers and the internet, and not the least, good education for our children.
We think nothing about spending £14.00 on a CD of an old book, and here at Archive CD Books I am prepared to buy expensive equipment, and old books costing many hundreds of pounds.
Not everyone in the world is so fortunate. We've all seen examples on the television, and at times, it brings a lump to our throats and tears to our eyes.
What happens there in third world countries when the TV crews have gone home, and we get on with our lives?
Those people we have seen stay there, and get on with their lives too.
A small donation can make a huge difference, especially if that donation is made direct and not soaked up by administrative costs.
This class room at Dago Kokore Primary School is pretty dire - at least by our standards.

The floor is bare mud, and becomes totally soggy in wet weather. Heavy red mud. The walls of the building are made from home made mud blocks, dried in the sun. The windows and door are just openings in the walls. Nothing is secure, and no resources can be left in the class room. The desks and benches are made from the kind of scrap wood that one finds in the yard.

However, the teachers at the school are wonderfully dedicated, and the pupils, aged 7 to 14 really want to learn. They know that with a good education that they can improve their future and that of their families.

So, with conditions like this, we would like to help. Last year we helped provide a water tank for the school, and contributed £500 towards its cost. The project was a great success. This year we would like to contribute towards improving the conditions of one of the class rooms, or perhaps more of them if we can raise enough money.

What we want to do is:
Make concrete floors
Plaster the walls
Fit a door and real windows
Provide some decent desks and chairs
There is a way that we can do this. By selling one of our best CDs. And instead of selling it at £17.87 (£21.00 Including VAT on sales within the UK), we are going to offer it at just £10.00 - and - the WHOLE £10.00 will go direct to the school to pay for this class room project. We need to sell 60 CDs. You can help - really easily!
That was the plan....
Update February 2005
We succeeded! And More!!
We reached the 60 CD sales really easily, and £600 was sent over to the Dago Kokore School. They didn't waste any time in buying cement and ordering windows and a door for Diana's class room. In fact, with the money, they were able to concrete the floors in all of the class rooms!
They are so proud of their school and its improvements, and as a direct result of the fact that they have shown themselves as wanting to improve, and have spent money that we sent wisely on classroom improvements, the British Council in Kenya have given them a new set of school gates. That's a real status symbol for them! So there has been a knock-on effect.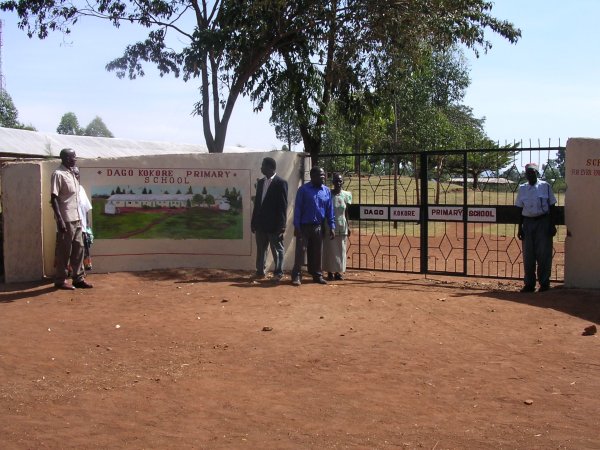 Below: Diana's class room, and the one beside it, now has a windows and a door. Until now, there were just openings in the walls.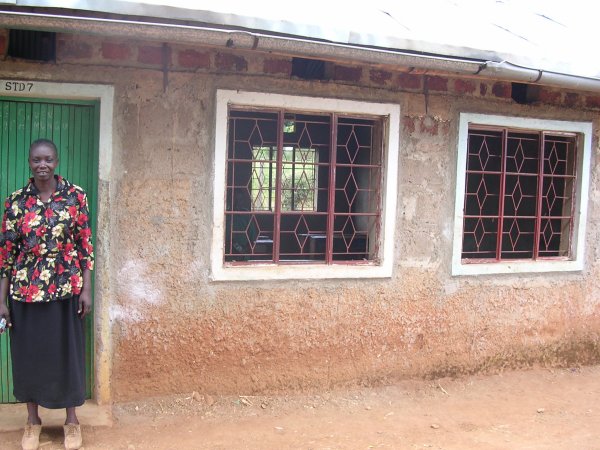 Below: Diana (left) in her class room - with concrete floor.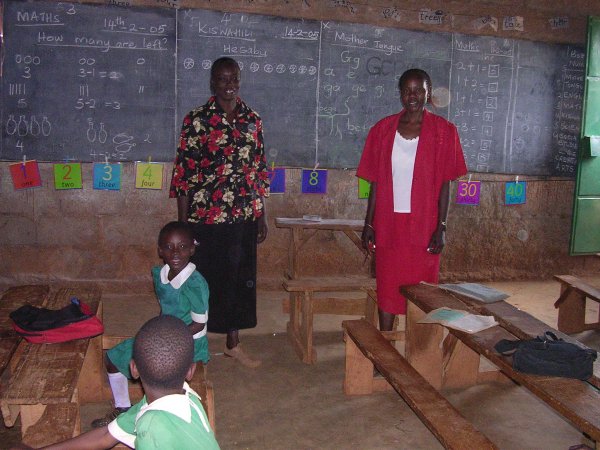 Note also the number cards, given to her by the Ruardean Primary School. The Dago Kokore school simply cannot afford such luxuries. In 2004 Archive CD books also supplied hundreds of pencils and plastic rulers for the children. They cost us little (in our terms), but the passport to schooling is for a child to own their own pencil.
Below: some photos of the children in the class rooms. All with concrete floors rather than the bare mud.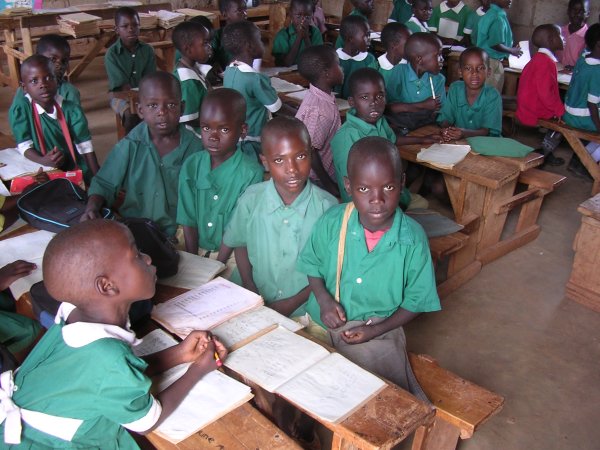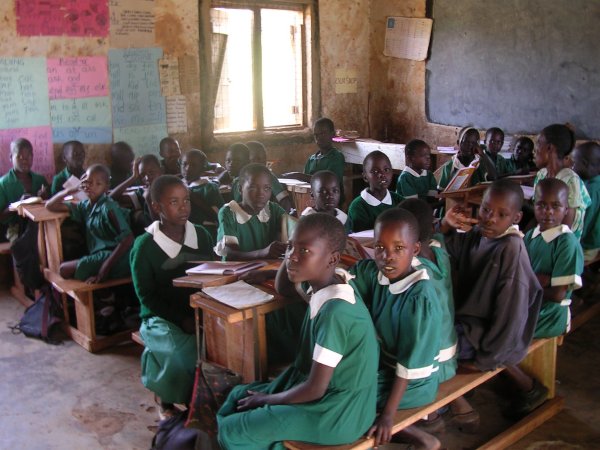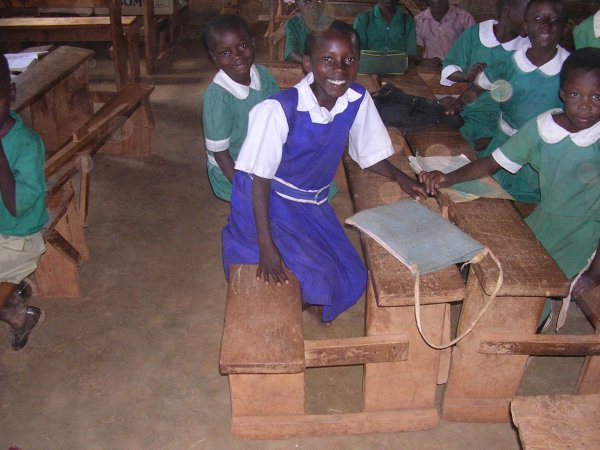 The chairs and desks were made by parents some years ago.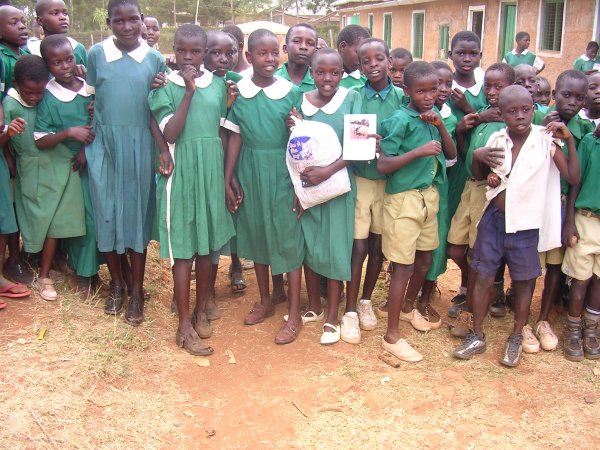 Above: another success story. The children all now have shoes! (Look at the little guy on the right in the white shirt sporting a pair of Nike trainers). Having shoes is really important. Its a health issue too, as here in this part of Africa there is a nasty little worm that burrows in to the sole of your foot, and then wraps itself up the inside of your leg as it grows. These children were coming to school without shoes, and so hundreds of second hand shoes were collected in a project by our local school, the Ruardean Primary School, and taken over there.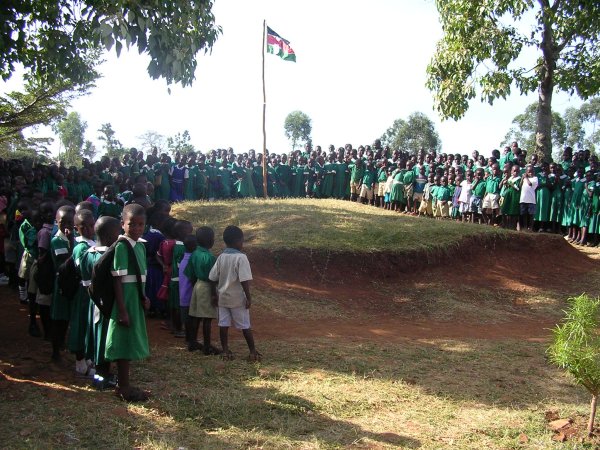 Above: School assembly. It takes place outdoors. That's the only place large enough to hold the whole group.
Education in Kenya is in three stages:
Infant (they call it "nursery") school for 3 to 7 year olds - that is not free. Only parents who can afford it can send their children to infant school - and of course, that is few. The infant classes at Dago Kokore School (with 100 children in three classes) meet in the local church. That's a very small building with just one room, and everything has to be cleared out at the weekends and whenever there is a mid-week church meeting.
Primary School - for 7 to 14 year olds (although some children stay on a year or so later sometimes if they have not reached the basic standard grade of education). That's the school that you see here. Primary school education is now paid for by the Kenyan Government.
Secondary School - for over 14's. That has to be paid for by parents, and at massive fees of £110 ($200) per year few parents can afford that, and generally, it is for the boys. That's a cultural thing. There is a secondary school close by. There is another type of secondary school, of a higher standard, but that is a boarding school some 60 miles away, where pupils achieve a higher standard of education that may lead to a University place, but attending such a school is virtually out of the question at over £200 per year.
Putting that into perspective, a teacher earns about £60 per month, and that is a highly paid job. Parents of these children earn little or nothing - that's even if the children still have parents. About 70% of them don't, due to the AIDS epidemic.
But the amazing thing, is that these children want to work in school. They have an immense desire to succeed in school. They see education as the way of leading to a job and supporting their extended families. And they are happy young people!
Our little bit in 2004 helped a little, by improving the school conditions. It isn't much really, but it is something that the children, staff and governors of the school are immensely thankful for. In fact they are over the moon about it! £600 to them is a small fortune.
But it doesn't stop there! In total, from the sale of that one CD, we didn't raise just £600 - we raised £3,000 !
See here what the plans are for 2005 and the rest of the money.