---
2006 February Visit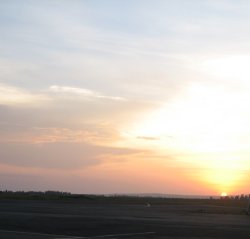 Sunset at Kisumu.
Within minutes it would be totally dark.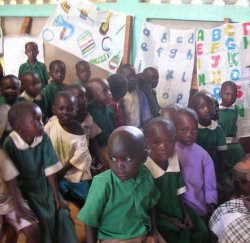 This is how our children were seated and educated before we built the ECDC Unit. Seated on benches, tightly packed. Over a hundred of them in one room, and with no space to even move!
---
Its all well and good for us to provide a new ECDC Unit (the infant school, which we built in 2005), and we now have a reasonable amount of teaching resources in there. But the next step was to also help to enhance the skills of the infant school teachers.
Therefore we came up with a little plan.
In Kusumu there is a particularly good private nursery school, called Shady Garden. It is the place where businessmen and people who can really afford it send their children. Its fees are expensive. The teachers there practice extremely good teaching techniques, and it is renowned for being "the best" for hundreds of miles around.
Through Pamela Akello, the Municipal Education Officer in Kisumu, we approached Shady Garden school and asked if the three infant teachers at Dago Kokore could go there for two days in-service training.
It is all arranged! Shady Garden were so flattered that we thought of them as the "pinnacle" school, that all they asked for was a contribution. Kenya shillings 6,000/- .......... that's about £48.00. Needless to say, I paid that immediately on the spot.
When I announced this at the meeting I had with parents and guardians at Dago Kokore, they were extremely excited about the idea!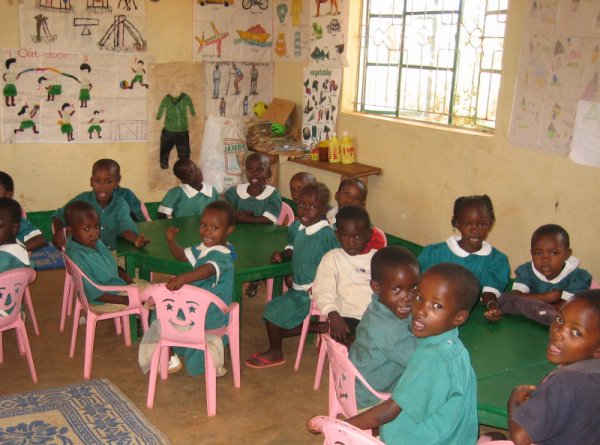 And this is how it is now in the new ECDC Unit.
Tables and chairs, and a decent amount of floor space with rugs on which to play.