.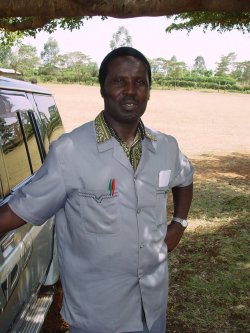 Tom Sabwa, our old friend, pictured beside our hire vehicle in 2006 at Dago Kokore. Tom is now the Deputy Head Teacher at Alara School.
Tom is the type of person who gets things organised, and gets things done. In 2005 we had the pleasure af staying in Tom's home.
.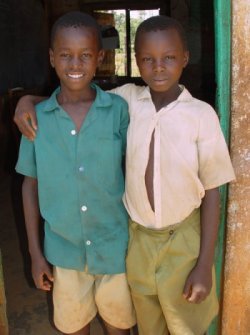 ALARA SCHOOL 2007
Kisumu, Kenya
We first became involved with Alara School when we made a visit there early in 2006. Tom Sabwa, who was the leading figure in organising our building projerct at Dago Kokore School, was transferred to Alara School, where he took up the position as Deputy Head Teacher.
The school is a happy place. That became very evident in our visit in 2006, when we met the teachers and many of the children. Despite the poor school buildings, it is a successful school. Like most others, it has a very large proportion of orphaned children due to parents dying of AIDS.
| | |
| --- | --- |
| Alara School in 2006 | The staff at Alara School (2006) |
It is our aim to help Alara School, its teachers and children as much as possible within our limited resources.
We identified one of the main problem areas to be the infrastructure. The school building, access, and communication with the outside world. Earlier in 2007 we supplied the funds to install a telephone to the school. We want to get around to improving the classrooms and their facilities, but the first project that was high on their priorities was a new administration block with a staff work room, office and toilet facilities. The rooms used at the moment are frankly dire. They are much too small, totally inadequate, and basically the usual mud construction.
The whole of the administration block project will cost about Ksh 550,000/= and in September 2007 we sent them funds for half of this amount. Work began immediately! By the time we make our visit in mid October it will be well under way and we are sure to see some results.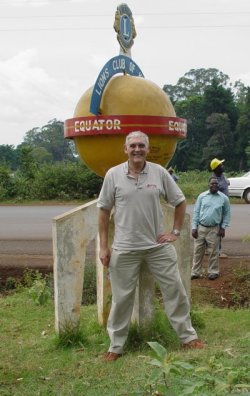 Just up the road from the school is the equator! Rod Neep poses with a foot in each hemisphere. In the background are Zadok and Tom.
---
Alara Primary School
Some basic statistics:
420 primary children (aged 7 to 14)
87 nursery children
10 children with special needs
9 class rooms (8 in the primary school)
14 teachers and assistant staff.
On September 24th, we received the following photos from Alara School. Work has begun!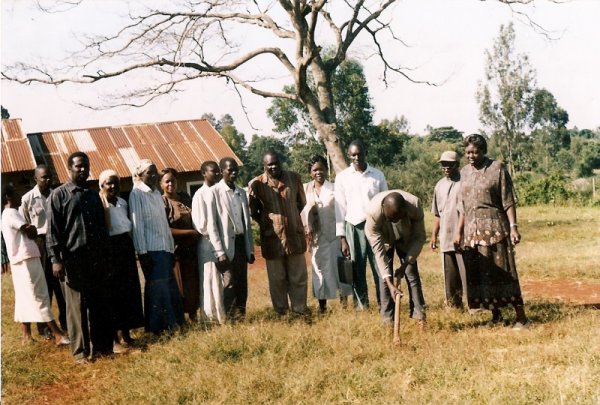 Above: An important occasion!
Prayers and breaking of the ground by sponsor of the school Rev. Washington Onyuku (of A>I>C). Present at the site are the Assistant Chief, community representatives, teachers, head teacher Mrs Perez Oliech (right), and the Deputy head teacher Mr Tom Sabwa (third from left).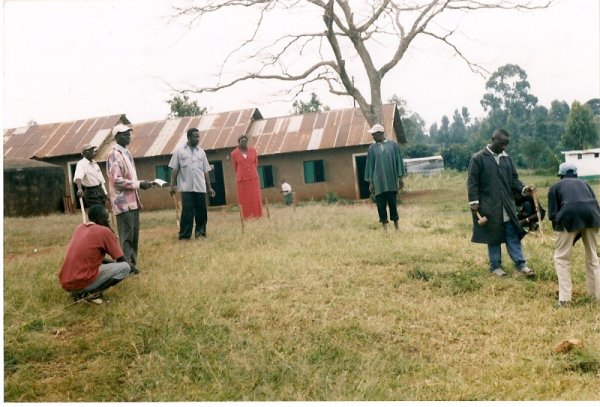 Above: Measuring and marking of the foundation. On site, the labourers, Deputy Head Teacher Tom, and the Head Teacher Perez. (In the background are some of the school classrooms).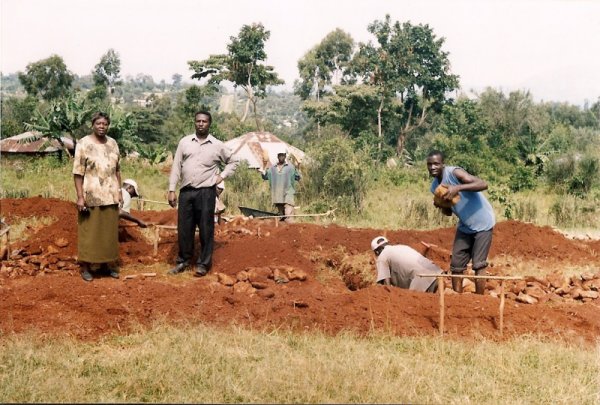 Above: Foundation digging, being watched by Tom and the Head Teacher Perez.
---
A computer and printer for the school
We shall be taking a laptop computer and a printer with us to give to them. Its not a new one, but kindly donated by Nikki (of Archive CD Books). At present all letters and reports are hand written and they have to go 20 miles to Kisumu to send an email. As they already have the phone line, then all that will change!
When the new administration block is complete - what next?
We have some extremely ambitious and awesome ideas. Would it be possible to build a whole new primary school with 8 class rooms to replace the existing buildings?
Google Satellite Photo of Alara
---
On September 24th we received a letter from Alara.
Alara Primary School
PO Box 8059 - DAGO
via KISUMU
Kenya

17/09/07

Dear Gay and Rod

On behalf of Alara fraternity, I take this opportunity as the Headteacher to greatly thank you both for your kind gesture towards Alara Primary School. You have made Tom and I very proud administrators by making our dreams come true.

It had been our prayers and wish since we were promoted to the posts of the Headteacher and Deputy Headteacher respectively to leave Alara Primary School better thasn we found it.

When Tom discussed with me about the two of you being his very good associates and who are always ready to give assistance to the Kenya schools I gave him an OK to communicate with you concerning our school Alara. It did not take long before he came to my office one morning with a message in his mobile phone that you had offered 25,000/= for the telephone. That was indeed the beginning of good things from you. Come June he surprised me with the good news that you were ready to donate an administration block and that we should come up with a plan. As if that was not enough, I was mesmerised when he came with the message that you would donate 550,000/= for the administration block, and that you've sent 200,000/= for the start of work.

Indeed I saw the kindness and love you had for Alara and the good friendship between you and Tom. I'm glad to inform you both that we have already put the money into use as you can see in the photos. Our dreams have been made tru by Gay and Rod. We shall now one day leave Alara school better than how we found it.

Looking forward to seeing you when you come next month.
Thank you.
Yours sincerely
Perez Oliech, Headteacher

---





That's good news indeed. We are so looking forwards to visiting Alara in October! Obviously this is just the start of this important project. We'll be identifying their other needs, and we are know there will be lots!
The first draft drawings of our plans for a new 8 classroom school at Alara.
(Thanks to Paul Neep)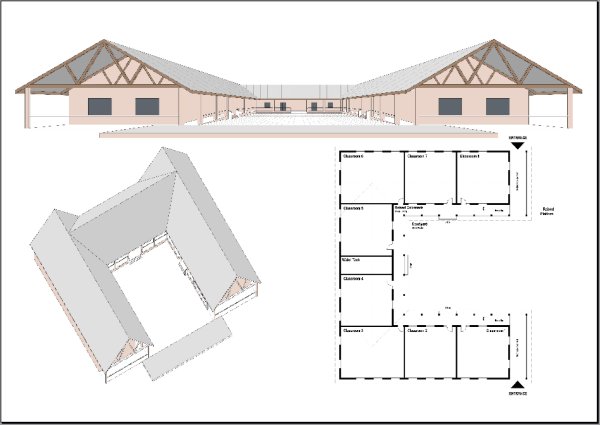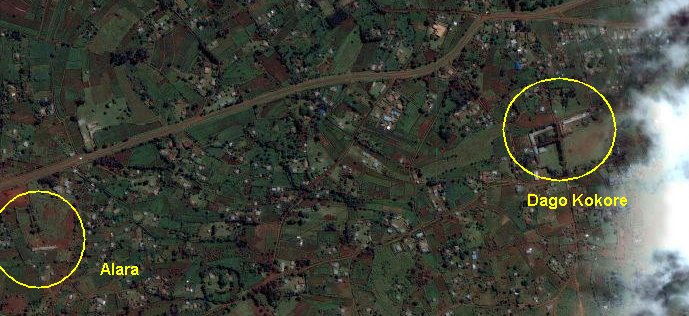 Click here to go to Google satellite view of this area

If you would like to help us with this project, then please click on the "Donate" button.
Payments are accepted securely though Paypal in any currency.
No matter how small, we really appreciate your donations, and the Kenyans will too!
Remember, we don't take anything out of the fund for our trips and expenses, nothing comes out for administration costs. Every penny of donations gets put to good, direct use.