---
How fortunate are we?
Here we are, enjoying the benefits of comfortable homes, good food, and luxuries such as computers and the internet, and not the least, good education for our children.
We think nothing about spending £14.00 on a CD of an old book, and here at Archive CD Books I am prepared to buy expensive equipment, and old books costing many hundreds of pounds.
Not everyone in the world is so fortunate. We've all seen examples on the television, and at times, it brings a lump to our throats and tears to our eyes.
What happens there in third world countries when the TV crews have gone home, and we get on with our lives?
Those people we have seen stay there, and get on with their lives too.
A small donation can make a huge difference, especially if that donation is made direct and not soaked up by administrative costs. That's what the Archive CD Books Supporters have been doing.
BUY THE SPECIAL CD TO SUPPORT THE SCHOOL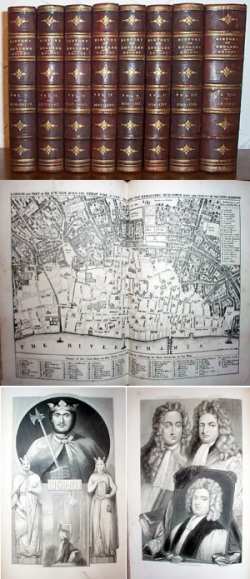 That is the special CD that is going to help buy more resources for the school. Buy it for just £10.00 instead of the usual price of £35.00 - and its a gem for your collection!
BUY THE SPECIAL CD
SEE THE DETAILS HERE
100% of your £10.00 will go direct to the project. And Archive CD Books makes the CD for free too.
100% of any donation made will go direct to the school. No administration money is taken out of it.
EVERY PENNY COUNTS!
---
FUNDING EDUCATION FOR THE INFANT CHILDREN
Having now built the school, we are going one step further with a new sponsorship scheme. (Started December 2005)
We have agreed to sponsor the cost of education for the 4 to 7 year old infant children at our new school in Kisumu, Kenya who are orphans. They attend the school for three years, at a cost of about £5.00 per year (I know, that sounds impossible - but that's the reality of Kenya).
People can sponsor a child for their THREE years in the school, before they move up to the Primary school (8 to 14 years) which is paid for by the Kenyan government.
Basically, we have the following need:
25 children for 1 year (their third year)
33 children for 2 years (their 2nd and 3rd year)
xx Children for 3 years (that's the new children who will start in January)
(If we receive too many sponsorships, we shall provide scholarship payments for the other children, starting with the most needy cases)
BETWEEN 60% AND 75% OF THE CHILDREN IN THE SCHOOL ARE ORPHANS.
I now have the list of names of the 58 orphan children who will start their year 2 & year 3 in January. At this moment, we don't know exactly how many new children will be starting school in January 2006.
The good news... actually it is GREAT NEWS! We already have one person who has already donated enough money for those 58 children to complete their time at the infant school!
THIS ONE-OFF SPONSORSHIP IS TO PAY FOR CHILDREN STARTING SCHOOL IN JANUARY 2006. IT WILL PAY FOR THEIR THREE YEARS OF EDUCATION. £15.00
We shall of course be keeping a record of everyone who sponsors a child, and as soon as we know the names of the children, then we'll keep you in touch with who they are. We are hoping to also have photographs of each of them to send to you.
If you want to sponsor more than one child, then simply add two or more of this sponsor item to the cart.
(Note, the separate £5.00 donation on this page is still an option. The money from that is for general equipping of the school)
Oh yes... what if we receive more sponsorshops than there are orphans starting the school in January? Simple, we shall provide scholarship payments for the other children, starting with the most needy cases.
Every penny of what you donate here goes direct to the school - nothing is taken out for administration. Note: if you place money into the shopping cart here, it will add £2.00 "post and packing" (the shopping cart software won't let us do a post free item). That £2.00 will go to the school too.
STOP PRESS : 3 JANUARY 2006
It is only the 3rd of January - we did it already!
In fact we did better! - We have enough sponsors to pay for the fees of 49 children who enter the school in January 2006. Subject to final numbers.... that's all of them!
That's absolutely wonderful. Thanks very much indeed to all those who have taken part!
(We'll be back again at the end of this year for funds for the 2007 entry of children)
Regards
Rod
Phew! Let's move on! 2006 project - Stage 2