Our new fund raising drive. Started November 2008. This is to buy desks and chairs for the new school.
Amounts in GB Pounds Sterling
The first target of £6,000 is for the desks and chairs.
Once we reach that first target, then extra funds will buy classroom resources.

As at 6 May 2009
Payment may be made via Paypal using the button above. Its easy, and you can contribute in your own currency - whatever amount you wish, no matter how small.
As the new school at Alara reaches completion, we now have an urgent need to provide desks and chairs for the children. Proper desks and chairs! The ones currently in the school are old and very crudely made.

The children deserve better than that!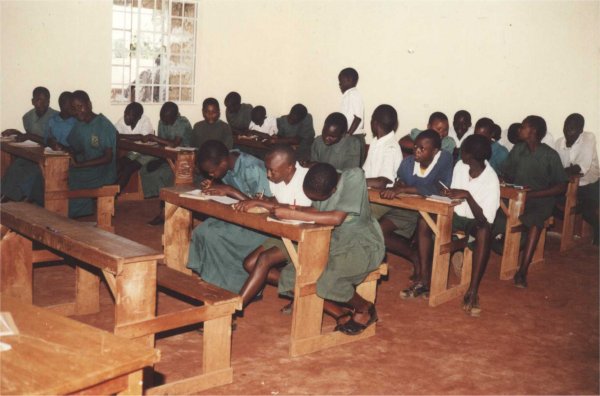 This is the upper class (Std. 8) in their new class room. At the time of writing, three of the eight classrooms are now completed. Those are the desks that we want to replace. A plank to sit on and a narrow plank to write on just isn't satisfactory for good education.
Our initial aim is to raise £6,000 (that's about $9,000) to equip all eight classrooms with new desks and chairs, and then we'll go on to raising more for classroom equipment, resources and books, etc.
You can help by making a donation, NO MATTER HOW SMALL.
Every penny of what you donate will go to equipping the school. Nothing is taken out for administration costs, or expenses, etc.
Thanks!
Rod & Gay Neep