---
We have been helping at Dago Kokore Primary School for several years, first with the supply of a water tank and some teaching aids, then for a whole new infant school (Early Child Development Centre), and also renovations a materials for the primary school class rooms.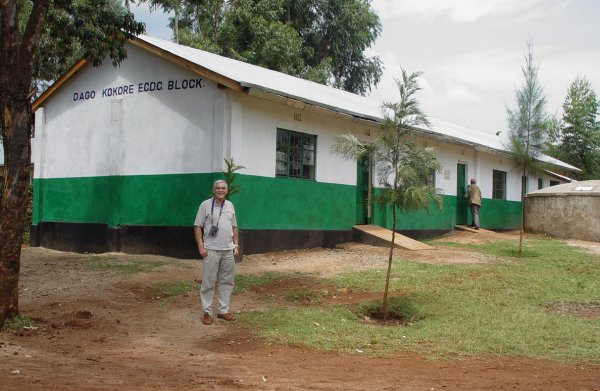 Above: the infant school unit that we built at dago Kokore in 2005.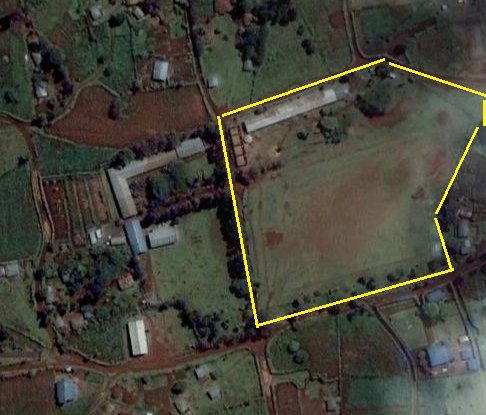 The school. The main primary school building is the long one at the top. Just to the left (adjacent to the upper left boundary in yellow) you can see the four rooms of the ECDC block being built! The buildings at the left are the local secondary school.
Photo Google.
We heard from the school (6 September)
Hi Rod,
How are you? We are fine at Dago Kokore. Sorry for the long silence, it was just because I was administratively putting management in order. I organized for the school management committee a training seminar on how to manage and prepare comprehensive reports of the projects going on at school.It was successful and there is now more knowledge in the committee members. Zadock retired this August 2007 and his Deputy managed to the Head teacher of Dago Kokore. He has realy helped us in the current improvement.
We conducted an Education Day on 27th July 2007 to award good performing pupils and teachers as motivation; it was very good.God has protected us and the school is now performing so well. You requested me to forward for you how I could use the funds in the Kenya account. In our strategic planning (I think I sent for the list of priorities we had discussed in the meeting). The planned activities were put in 2 phases. Here below is the cost of phase 1 activities with the most prioritized projects"
"The phase 2 project shall be done after the successfully completion of phase 1. The phase 2 includes renovating of classrooms and electricity extension to other classes.
We pray for and your family for the activities you have been performing to help the needy. May God bless you so much.
Receive greetings from Dago Kokore Primary School.
Regards to your wife Gay and the rest of your family
Yours in faith,
Harrison Otieno
---
This year we received requests for funds to cover:
A new 3 cubicle toilet block
to replace the one that subsided and fell down
Ksh.69,865/=
£514.91
Hardcore to the approach path to the school
This path is extremely muddy when it rains, and the children were slipping and falling.
(The community has also paid for half the total cost)
Ksh.17,000/=
£125.29
Repair of compound fence
Ksh.44,050/=
£324.65
Deworming Programme for infant class 1
(Part payment. The local community are paying half)
Ksh.2,000/=
£14.74
Electrical wiring to staff room and classes 1 to 6
Last year we installed electrical power points and lights to classes 7 and 8 and to the offices, and also paid for the electricity supply to the school. Now we can complete the job.
Ksh.2,000/=
£383.24
Repair of gutters to part of the school & miscellaneous repairs
Ksh.16,085/=
£147.08
TOTAL
Ksh.201,000/=
£1,500
This is phase 1 of their needs for 2007/2008
Activities during our visit:
We arrived and had a talk with the head teacher and chairman of the school Committee
We were greeted by the whole school, with songs
Attended the school's committee meeting, and met all of the committee members
We were shown around the compound by the committee, discussing their needs
Visited the three infant classes, who each sang to us
Visited classes 1 to 4 of the primary school
Tea and cakes in the staff room
Meeting with all of the teachers
Cooked lunch in the staff room
Visited classes 5 to 8 and introduced to the children (and they remembered who we were)
Informal discussions with the teachers and committee